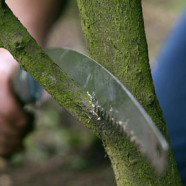 Whether for reasons of safety, health or appearance, we provide a variety of tree trimming, cutting and pruning services for commercial customers. When trees are blocking entrances, footpaths, buildings, driveways, windows, gardens, neighboring properties, causing interference with broadcast services and satellite dishes, or if they're just plain growing out of control, we can help! Pruning can solve these issues as well as enhance the health and appearance of your trees, giving them a long and healthy future. Did you know that well maintained trees also sustain and increase property values?
Pruning and trimming may involve:
• Canopy thinning
• Removing unwanted limbs
• Reshaping
• Raising or lowering canopies
• Removing deadwood
• Corrective or formative pruning
• Clearing utility or power lines of tree branches or
• Trimming away from structures or houses
15feet tree maintenance performs tree trimming and pruning services regularly and we are quite familiar with working within the urban landscape. From managing accessibility and wires and electrical lines, to working close to neighboring properties, precise control of falling debris and clean-up, we are experts in these circumstances with many years of professional experience.