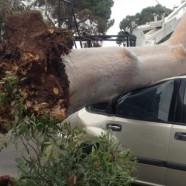 Do you have a tree that has been blown down during a storm?
Fifteenfeet Tree Services are ready to respond and are fully equipped to cater for any emergency situation.
Reasons for emergency callouts may include:
• Storm, flood and fire damage
• Dangerous hanging branches
• Fallen and hazardous branches
• Fallen and hazardous trees
Heavy winds, rain, lightning and storms can wreak major havoc and cause tree damage, fallen branches, fallen power lines, car damage, roof and property damage, blocked paths and scattered debris – all of which can pose a serious danger to your business, customers and members of the public. These conditions can be a major safety hazard if not handled properly. Tree branches under pressure from high winds can still break or fall even after the storm.
In the event of storm damage on your property, please don't hesitate to give us a call to perform a fast storm clean-up in the safest manner possible! We have many years of experience performing this service. We provide fast, reliable emergency tree service and emergency tree removal in Melbourne.
Can the tree be saved?
Trees are very resilient and have an amazing ability to recover from storm damage. In the aftermath of a severe storm, the question often arises: Can the trees be saved? There is often an initial impulse to get the mess cleaned up, but hasty decisions can often result in removing trees that could have been saved. One episode from a storm is usually not enough to kill the tree. The energy reserved in the tree's roots and limbs will refuel the tree that year or the year to following. Any damaged tree that is kept needs to be monitored for signs of weakness in the future.
Prevention is better than cure
The best way to protect trees from storm damage is through proper year-round care. This will help prevent many avoidable situations, protect your investment and save you the cost and trouble of cleanup and repairs. Hazardous trees are trees that are too close to a building on your property that, in the event of a major windstorm, could be blown down and cause major damage. Removing these trees beforehand could help keep you from costly repairs and bodily injury. Although it's difficult to protect trees from extreme weather conditions, there are effective precautions you and your arborist can take to minimise the impact.
Please call fifteenfeet on 0435 086 323 if you need n emergency tree services and we'll help return your property to normal in no time.