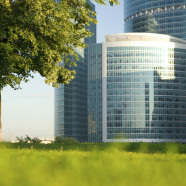 We provide every type of service and level of care required to keep trees on your premises healthy, safe and attractive. Whether you need tree care for an office complex, apartment buildings, golf course or car park we have experience and technical know-how in working within a range of commercial contexts.
Well cared for trees beautify your environment, provide shade for employees and guests, and enhance the value of your premises. But it's important to maintain your trees so they stay vibrant, healthy and disease-free.
We realize our employees working on your property are a reflection of your own business or organisation. We employ professional, polite, safety oriented team members with a focus on your satisfaction.
Limit Your Liabilities
One of a business's main objectives is to minimize potential liabilities. If you are in charge of managing trees on your own, you could be opening up the floodgates for potential liabilities due to increased risk or harm from tree damage.
Our expert team can help you maintain and manage any risks associated with your trees by providing preventative services designed to safeguard them in the event of storms and other events. Trees that are taken care of properly and on a consistent basis are at far less risk for seriously injuring someone or causing property damage.
We've got an insured and fully experienced team ready to go at any time for your commercial property.
15 feet tree maintenance performs tree trimming and pruning services regularly and we are quite familiar with issues of the city landscape. From accessibility, wires and electrical lines, to close-neighboring properties and precise control of falling debris and clean-up, we are experts in these circumstances with many years of professional experience.
Record keeping
Records, including maps, provide the basis for safety management reviews and, in the extremely rare event of an accident, can be important proof of reasonable tree management.
Records of trees presenting a serious risk and requiring treatment are useful, as is a record of how they have been treated. When inspections are carried out, records can demonstrate that the owner or manager has met a key component of their duty of care.
Other useful ways of demonstrating reasonable assessment and management of trees include recording recommendations for work and when tree work has been carried out.
Tree Permits
15feet can work with you on your plans for your property within any local tree retention requirements and submit supporting documentation and tree reports with any tree permit applications if required.
If plans for your property entail tree removals or tree pruning we can prepare and submit applications for tree works permits with your local council on you or your organisation's behalf.
Tree Protection
There are a range of local and Australian laws and standards with defined requirements in regard to the protection of trees on development sites. If you are developing a property, are unsure of your legal responsibilities in relation to trees, or are concerned about tree health and tree retention requirements in the process of excavation, building or landscape changes, we are happy to advise on your situation.
contact us per email ore phone: 043 5086 323